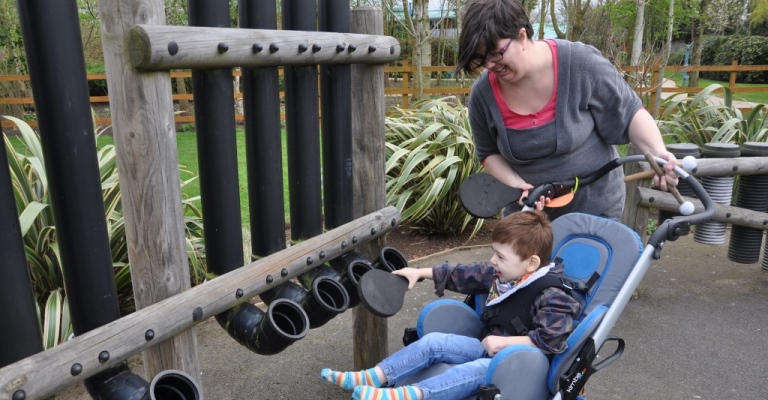 Category: Acorns
Posted on 07.06.2017
Malachi is a lively three year old with a cheeky sense of humour and although he's limited physically, Acorns lets him do some of the things he loves!

At six weeks old, Malachi contracted a severe chest infection and was rushed into intensive care where tests revealed that because his blood pressure had been so low, his brain had been deprived of oxygen.
The family were given the news that would change their lives; that Malachi had permanent brain damage and may not be able to walk, talk or feed himself.
Malachi's mum, Laine, says: "It was heart-breaking. It had been a difficult pregnancy and he'd come through that healthy. The prognosis was grim, but the great thing about Malachi is he's proved us all wrong.  He feeds through a bottle, he sits up, he chats – all things they said he wouldn't be able to do. He has intensive speech therapy, so now he can say two or three words together."
The family were referred to Acorns as a place where they could have respite and support but also somewhere where Malachi has the opportunity to take part in a variety of activities, specially designed for his needs.
Malachi's mum, Laine, says: "Malachi loves Acorns, he thinks it's amazing. As soon as we get to the hospice, he knows where he is and he's happy. He'll always want to go in the gardens when he gets there or he'll ask to go in the hydrotherapy pool.
"His favourite activity is swimming and he likes going outside in the garden and playing with the musical instruments. He has a great time banging the drums in the garden.
"He loves spending time in the multisensory room, which is good for his senses and helps him express himself.  If there was no Acorns, it isn't just Malachi that would miss out, but the whole family would miss out. They support all of us."
Your donations to Childlife are helping Acorns to continue to support Malachi's family and others like them, 365 days a year.