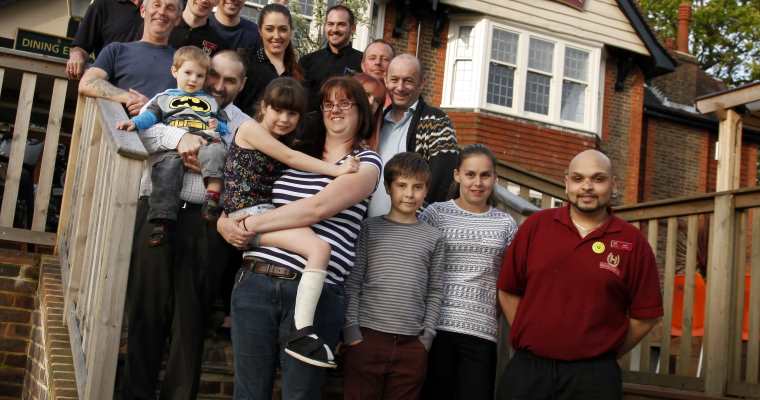 Coming to terms with a loved ones diagnosis of a rare condition is difficult enough, even more so when that person is the only individual you know with that condition.
Through local branch meetings, special weekends, online forums and helplines, Ataxia UK are providing the resources for families to share their knowledge, tips and advice on coping strategies and the opportunity to connect with other people who understand what they are going through.
For Jamie and Catherine who have two young children with ataxia, Bethanie and Samuel, the initial shock of a diagnosis was very hard to take. Ataxia UK helped Jamie and Catherine reach out to other parents for mutual support.
"Through Ataxia UK we joined a Facebook page for parents of children with ataxia, and I have met with another family near here who have children with an undiagnosed ataxia. We are able to meet regularly, and discuss issues, consultants, etc." said Catherine.
Bethanie was diagnosed at age six following many years of concern for her health and having been diagnosed with various other conditions too. Although they had no concerns with younger brother Samuel, who showed no obvious signs of ataxia, genetic testing at age two showed that he indeed also had ataxia and that older brother Joshua doesn't but is a carrier.
With no history of ataxia in either Jamie of Catherine's family, the need to understand their children's condition was huge – and to meet with adults to see how they have adapted their lives because of the restrictions ataxia has caused.
The family are unsure of what the future may bring but confident that they have the support from Ataxia UK and other people going through the same challenges.
"Bethanie loves swimming, and this is one activity that she can do where we do not need to hold her as the water helps to hold her up. We also access a local wheelchair sports group, a disabled swimming group, Riding for the Disabled and she goes to Brownies. I have to liaise with them so that she takes her walker or wheelchair as appropriate for the activities she is doing.
"Samuel is still able to join in with other activities that his peers do, but I am concerned that as he gets older he is going to find it more difficult, as he will be able to remember being able to do what others do," explains Catherine.
Your donations to Childlife help Ataxia UK to support children with ataxia now and also to fund research into treatments to improve the outcomes for those diagnosed in the future.
Photo © Kent & Sussex Courier