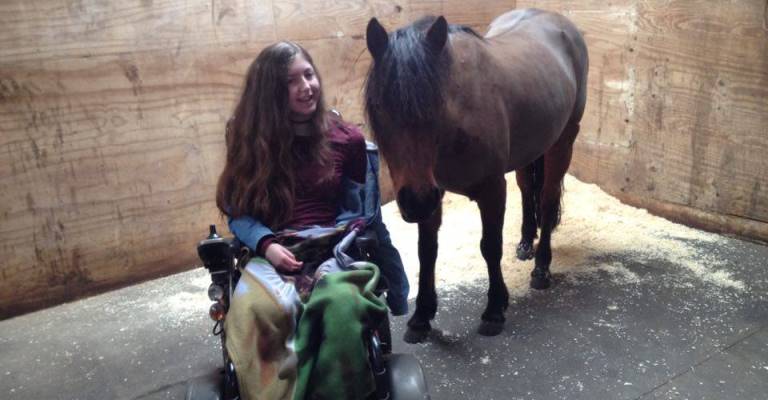 While her school friends were running around the playground, Beka Libby spent her childhood in and out of hospital undergoing painful surgeries and eventually becoming confined to a wheelchair.
Beka, now 15, was diagnosed with Friedreich's ataxia aged seven.  Her Dad, Jason, had concerns about her mobility early on, initially suspecting cerebral palsy.  She was finally diagnosed through gene testing: "We were devastated, it's a horrific condition and we knew it was going to steal our daughter's childhood and give her a different life than we had hoped for her."
As well as the constant trips to hospital and the operations she has had to endure, Beka also suffers socially, feeling shy amongst people as her condition has affected her voice. At times she has found the publics' reaction difficult to deal with: "They stop and stare at me, which I find really annoying, but…yeah, I'm different so I get the stares."
Living in rural Brentor, Devon, Beka loved to ride her horse Tufty before ataxia took away her ability to balance and walk: "She means everything to me. I would really love to ride her again, but…" unfortunately, she can't. Instead, she cares for Tufty at the local stables, and walks her around the village. Living in the countryside has made this hard: "We don't have pavements, we've got dirt tracks and small roads," Jason tells us.
But that was until Ataxia UK, in conjunction with other charitable bodies, secured funding for Beka's outdoor powered wheelchair, allowing her to regularly visit and walk Tufty.
Jason has also found Ataxia UK a great support network for the whole family: "When you have a daughter with such a rare condition you want to know that you're part of a community and that that community is there to stand with you, to help you, to provide for you … and Ataxia UK is fantastic for that."
Ataxia UK have been instrumental in improving Beka and her family's quality of life and with Childlife supporters help, can continue to make a difference to the lives of other children with ataxia and their families.