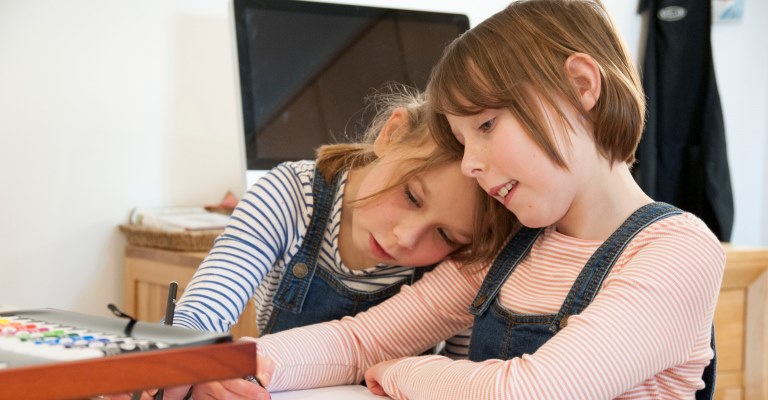 Nine-year-old Ella is a confident child now, but this wasn't always the case: "The first four years of Ella's life were an ongoing battle of wills, with her, and me, constantly in tears of frustration," says her Mum, Helen.
Younger sister Evie began learning to talk at a year old, which made Helen and her husband David even more concerned for Ella, a year older, and not speaking at all.  "She'd babble away and growl when things didn't go her way, but couldn't make herself understood."
Nursery staff suggested a hearing test.  The test raised some concerns but the audiologist thought it was probably just 'glue ear', a childhood condition which causes a temporary hearing loss.  Subsequent tests continued to bring the same conclusion and Helen became increasingly concerned.  "When we pushed for action, one consultant said we should stop making a fuss; it was only glue ear and she'd grow out of it.
"Then a friend told me about the National Deaf Children's Society.  Their website was packed with information. I called the Freephone Helpline and the lovely adviser told me about their online forum, where parents discuss issues and share their experiences. I no longer felt so alone."
The family attended one of the charity's weekends for families of newly diagnosed deaf children and left armed with all the information they needed and the confidence to ask that she be fitted with hearing aids.  "They made an instant difference and she started picking up more speech and joining in conversations.  A while after, a doctor told us Ella's hearing loss was permanent, not glue ear. Thank goodness we'd acted when we did and insisted on hearing aids, after talking to experts at the family weekend."
Ella is still 18 months behind her classmates, but she's trying hard to catch up. She's a happy, confident girl who wants to be involved in everything. "She puts on little plays, plays the violin and is very artistic, always making things and painting," says Helen.  The family have since attended another National Deaf Children's Society weekend, which focused on the needs of a deaf child in school. Here they learnt what to look for when choosing a school and about technology that could help Ella hear her teachers and classmates better.
Every week, 34 children in the UK are born deaf – and the barriers that hold them back can be huge.  Your generosity means they can enjoy their childhood adventure and have a future as bright as any child.