Do you buy from Amazon? If so, there's a great new way you can support Childlife, simply by signing up to Amazons new charitable giving site, Amazon Smile.
Amazon will donate 0.5% of the net purchase price (excluding VAT, returns and shipping fees) of eligible purchases to any charity registered with them.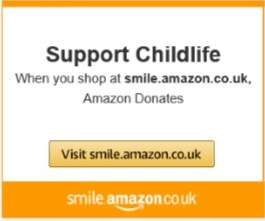 Visit www.smile.amazon.co.uk and select Childlife. You just then need to make sure you buy through the Amazon Smile website each time you shop, to be sure we benefit from your purchases. Thank you!