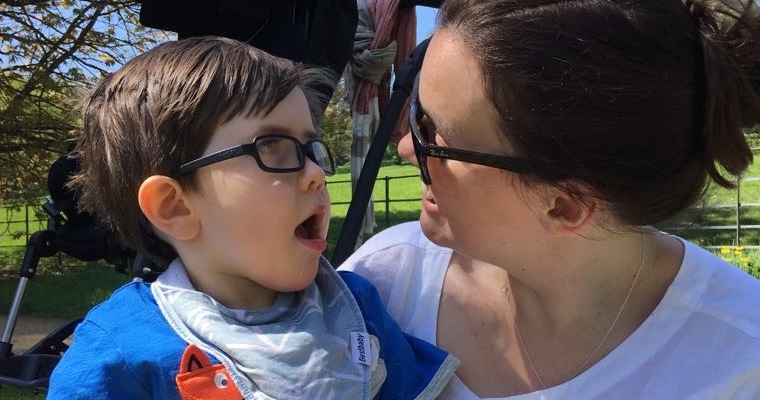 Category: Acorns
Posted on 09.05.2019
For parents, Claire and Simon, attending Acorns Children's Hospice with their five-year-old son George, who has Batten Disease, means they feel less isolated, supported and safe. "It's our release button, it's our escape, it's our sanctuary."
Up until the age of three, George hit all the major milestones, like every boy his age. However Claire noticed that his language wasn't quite as developed as it should be. George then started having seizures, which became more frequent and pronounced and after months of tests, the family received the devastating diagnosis of Batten Disease. The life limiting condition is an extremely rare, genetic, neurological condition, a form of dementia which affects just 150 children and young people in the UK.
Mum Claire says: "As a mum you never dream that it's going to happen to your own child. It truly breaks your soul to receive news like this. It's been a real adjustment in every single possible way to get my head around it."
The support the family receive from Acorns is vital. Like any five-year-old, George is full of mischief, loves messy play and being surrounded by people and listening to their chatter, so with all of the facilities Acorns has to offer including the hydro pool and the social activities, it's truly a place where he can thrive.
"Despite everything that's happening, he's still amazing and we're still able to enjoy things together, which is fantastic. We're trying to make the most of that before things change again for him and he's maybe not able to see certain things or experience things in the same way or express himself.
"Without Acorns it would be so isolating not to have the option of respite available. There are days you just reach breaking point, when tiredness, frustration, upset and anger build up. To be able to ring up and ask 'can he come to stay?' is something to be treasured. Acorns is amazing."
It costs £27,000 every day to run Acorns services providing care for children like George and to support for their families, so thank you for the part you are playing in helping them.