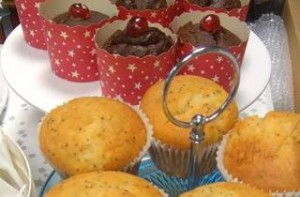 Why not hold a fundraising event at home, work, school, or pretty much anywhere else?  Use our fundraising ideas to get you started.
Auction of promises • People offer goods and services to be auctioned off.
Bad taste clothing day • Organise at work – people pay to wear bad taste clothing.
Cake Baking • Cook some yummy cakes and sell them for a £1 a slice.
Dinner for good • It's simple – go to www.dinner4good.com/childlife. You can create your own invitations.  Guests accept and donate to Childlife. You then hold a fun dinner party or maybe a murder mystery.
Ebay • Turn out all your old stuff and sell it on Ebay. You'll be amazed how much all your unwanted goods can raise. You can choose Childlife to benefit from 10% of your sale or more.  www.ebay.co.uk
Facebook • Encourage your friends to support you through Facebook and other social networking sites – lots of gentle reminders and links to your fundraising page will help. Follow us too!
Gift Aid • Reclaim money from the money people donate by asking them to tick the Gift Aid box if they are a UK taxpayer.
Hat day • People pay to wear a hat for the day – you could have a prize for the silliest hat and the person who wears theirs the longest.
Invite • Friends and family to donate money in place of presents for Christmas.
Just do your own thing • a sponsored 'anything' is a great idea – why not take part in your local 5k, 10k or fun run?  A sponsored swim can be good fun too, or something else we've not even though of yet!  To make life easier, you can set up a sponsorship page on Virgin Money Giving and then all you have to do is share the link on your social media.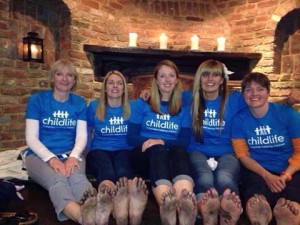 Karaoke night • Ask a local Pub if you can use a space for a private Karaoke night – each singer will make a donation per song.
Lucky dip Secret Santa • Ask people to donate little gifts and then wrap them up and charge people for a lucky dip present.
Money box collection • Request one of our flat-folding home moneyboxes to collect spare change in.
Name the Teddy • The winner of the competition gets to keep the teddy.
Open House • Invite people to bring homemade crafts and food to sell at your house. Each stall holder can donate to your charity.
Pamper night or Poker night • Either set up your house as a relaxation parlour or as a casino and invite friends over.
Quiz Night • Organise a quiz night with friends where they all pay a £1 and you set the questions.
Races • Night at the races – record a whole series of horse or dog races and then let each guest bet on their favourites.
Swear Box • Place a donation in every time you swear – you will be surprised at how much money you will raise!
Tombola • You could get friends and colleagues to donate small items and hold a tombola at work, at school or at your sports club.
Underwear on the outside • Raise money by getting people to sponsor you to wear your underwear on the outside!
Variety show • You could set up a "Britains got Talent" style show and get your friends to donate to enter.
Wine tasting evening • A fun evening where guests will have tasting notes and have to guess which wine (labels will be obscured) they are tasting from the description.
Xmas cards and decorations • Make your own X-mas cards and decorations and then sell them at a Christmas craft fayre.
Yield • Grow your own flowers and sell them on a plant stall.
Zumba-thon • Organise a sponsored dance exercise class
If you have your own fundraising ideas, why not share them with us on Facebook or Twitter.