Four charities helping children
What we do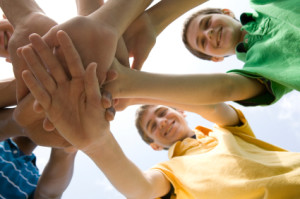 Thank you for taking the time to find out about Childlife.
Although we are a small charity, we are able to touch the lives of many families through the work of our four member charities.
Throughout the UK, thousands of children and young people are facing challenges in their lives as a result of illness, disability or social circumstances. Childlife helps to improve the lives of children and young people by raising funds for the work of its four member charities.
Our partner charities supporting children are Acorns Children's Hospice, Ataxia UK, National Children's Bureau and National Deaf Children's Society. Together they reach many thousands of children and young people every year, providing a range of direct services, information and advice to promote the interests and well-being of all children and young people. In their different ways, the four charities are all providing support and information to improve the lives of children and young people every day.
One gift to Childlife supports four charities providing care and support for children, young people and their families.
History
The Childlife consortium was established in 1992 as a way for four smaller, lesser known charities working with children and young people, to fundraise collectively through payroll giving.
Initially Childlife was run between the four charities, with each taking a key responsibility, but it soon grew to the point where a dedicated member of staff was needed.  Subsequently, further team members were recruited and an office opened in Fleet, Hampshire.
Today
Childlife is now run by three part-time members of staff and is situated in Farnborough, Hampshire.
There are four Trustees, one from each of the four partner charities and trustee meetings take place each quarter with the Chief Executive to monitor and discuss campaigns, budgets and the governance of the charity.
Our fundraising methods include door-to-door and street fundraising and of course, payroll giving.  By making a regular gift to Childlife you are enabling us to help all four Childlife charities so that they may in turn continue to support children and young people across the UK.