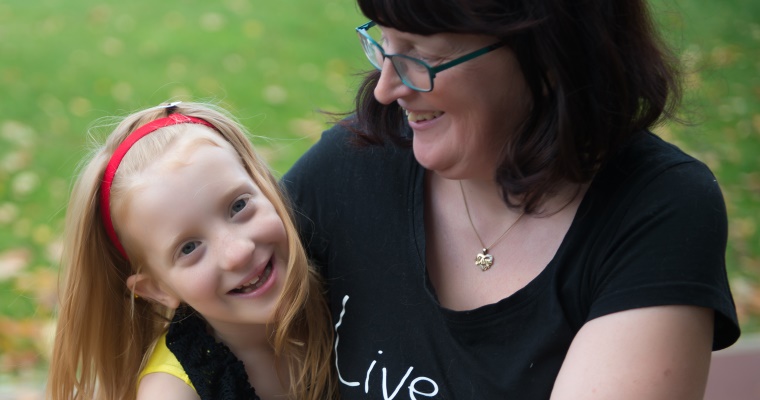 Belle, aged ten, recently won a local street dance competition – adding another trophy to a growing collection.  For Belle though, the very fact that she can dance along to the sound of her favourite tunes is an achievement in itself.
Belle was born with a cleft lip and palate and her newborn hearing test also revealed she was deaf.  "They couldn't get the hearing test instruments into her ears but thought it was glue ear – where fluid blocks the middle ear," explains Mum, Sue.
At 14 months, Belle went for an operation for her cleft palate and to have grommets – tiny tubes to drain away fluid – inserted for glue ear, but what the doctors found baffled them.  An MRI scan confirmed that Belle had virtually no ear canals.
Belle was diagnosed as moderate to severely deaf in her right ear, severely deaf in her left ear and given hearing aids but sadly, they proved of little help.  "Belle still barely responded," says Sue.  Then Belle's Teacher of the Deaf told her about the National Deaf Children's Society, who put the family in touch with a support officer, Heather.
"They were brilliant.  Heather helped us to get a special education needs statement, setting out what classroom support Belle needs, which helped a lot." But with the hearing aids proving to be more of a hindrance than a help, Belle was becoming more unhappy and angry that she couldn't hear anything.
Aged seven, Belle got bone-anchored hearing aids (BAHAs) which help sound to be conducted through bone, bypassing the ear canal. This proved to be a real turning point.
During a visit to the roadshow bus – which showcases a range of technologies that can help deaf children – Belle tried out a piece of equipment that links her hearing implant directly to music devices.  They were able to borrow one from the charity's Technology Test Drive scheme and a dancer was born!
Sue regularly uses the National Deaf Children's Society's helpline and website for support, as well as belonging to a local deaf children's society where the family can meet other deaf children and their parents.