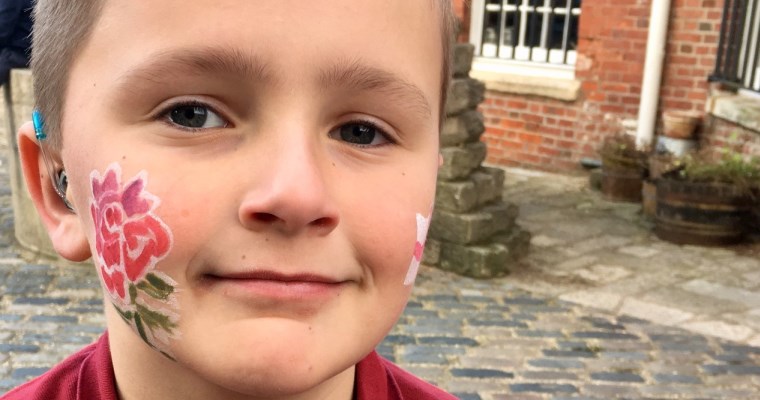 Nine-year-old Lewis has a moderate to severe hearing loss and a passion and talent for music, as his recent appearance playing the piano on stage in Birmingham shows.
Lewis was taking part in an annual project developed by the National Deaf Children's Society to increase expectations of what deaf children and young people in the UK can achieve in performing arts.  Known as 'Raising the Bar', it gives young stars from all over the UK the opportunity to develop their skills in a weekend of workshops led by deaf arts professionals, ending with a live performance on stage.
Bryony Parkes, Youth Development Officer and organiser of the project, says: "Raising the Bar is a testament to the talent of deaf young people.  Lewis has shown with his musical ability that he has the potential to achieve greatness in performing arts."
It was three years ago when Lewis first had the chance to play a keyboard at his cousin's house, and took to it instantly.  Mum, Emma says, "he has a natural talent for it and has been having piano lessons ever since".
Aged two, Lewis's hearing loss was diagnosed as the temporary condition glue ear, but after that had cleared, it became apparent he had a more permanent hearing loss which was already affecting his speech.  It was during this time that Emma turned to the National Deaf Children's Society for support, phoning their Helpline for advice.  Lewis received hearing aids when he was four years old, after which his sheer determination to keep up with his peers at school saw him improve in leaps and bounds.
Lewis is kept busy with his piano lessons, as well as enjoying dancing, playing rugby and learning the guitar.  He also took part in a football tournament organised by the charity, which he absolutely loved, and it gave him the opportunity to meet other deaf children for the first time.
Emma says: "[Raising the Bar] has been the best thing Lewis has ever been involved in, he has grown so much in confidence and is now happier to show off his talent in front of people".
Here's a great video about Joshua, which helps explain more about how a deaf child can enjoy music.