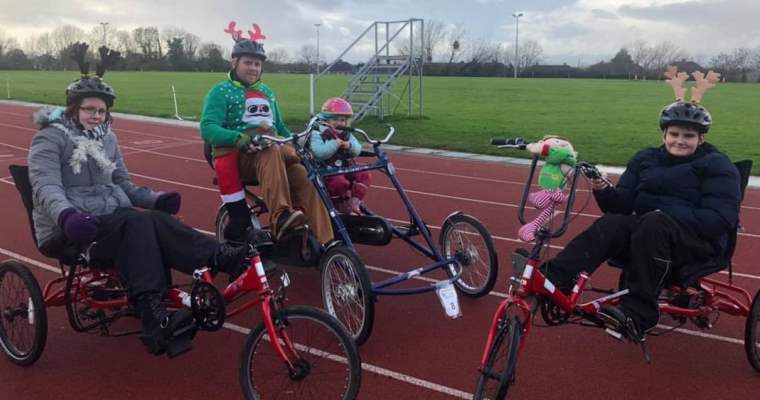 We asked Laura, Mum to 10-year-old Kayden, how the last year or so has been for her and her family, and how the future looks for them in a post-pandemic world.
"My son, Kayden, loves Gloucester rugby, playing football for the local learning disability football team, cooking and cycling. He also lives with a rare condition: cerebellar ataxia.
"We knew Kayden wasn't meeting his milestones as a baby and, at aged 2, professionals started to agree. It wasn't until he was nearly 5 years old when he received the diagnosis of cerebellar ataxia. However, in the last few years, it became apparent that he still wasn't making the amount of progress expected; he has recently been diagnosed with mild learning difficulties and cerebellar hypoplasia.
"Kayden has grown up knowing he has ataxia so he has never known any different. It was very difficult for us to come to terms with it as it was so rare and we couldn't find much information. That was until we came across Ataxia UK who has been very supportive the whole way.
"Kayden is getting a little more frustrated now he is older and realises he is different. He has wobbles and cannot do all the things his friends can do. However, as a wheelchair user myself, (non-ataxia related) he's always had a positive role model of disability. He can run (in a fashion), ride a trike and loves cooking – all things we were told by his consultant, at the time, he would never be able to do!
"In some ways, the pandemic was a nightmare (home schooling) but by the second lockdown, I admitted defeat and Kayden went into school because he has an Education and Health Care Plan (EHCP). On the other hand, the pandemic gave us more tools to manage Kayden's ataxia. For example, his sister's birthday could only involve six people so we hired a bouncy castle and Kayden and his sister had it all to themselves. Kayden wasn't able to stand on it unaided but he loved being stood up then diving sideways to fall over and bounce. This would never have been possible with lots of children as it would be unsafe for him to do so. We have also had plenty more time to do stuff and not rush – he is learning to take his time more and still holds hands on the way home from school if he is tired.
"I'm worried about going back to normal life, it's so busy and so fast – an ataxic plus a mum in a wheelchair really cannot do anything fast. People don't realise how difficult it is for Kayden to negotiate obstacles and walking in a crowd, let alone with a mum in a wheelchair who has been known to accidentally run him over when he wobbles into the way!
"Kayden is 11 in September and we are awaiting a neurologist appointment and hope to eventually join the Children's Ataxia Centre in Sheffield for more specialist advice. Therefore, his diagnosis is still ongoing as they have never managed to pinpoint any specific type of ataxia and, apparently, there are more tests to try."