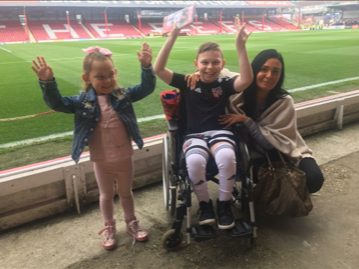 'Ataxia' describes a range of neurological disorders that affect balance, coordination and speech. There are many different types of ataxia that affect people in different ways and for nine-year-old Ronnie, this means he's never been able to walk, has difficulty swallowing, coping with loud noises and has a squint.
Ronnie has a form of spinocerebellar ataxia, which was diagnosed at 18 months, though the cause of it is unknown and therefore there is no clear prognosis.  Mum Nicola felt that there was something wrong when Ronnie was just a few months old which led to his early diagnosis.
"He was dazed by loud noises, choked when he ate and drank, would squint and he didn't try to walk.  Although getting a diagnosis meant we had a name for the condition, in the same breath we were told there was no cure and the hospital felt there was nothing more they could do and discharged him."
Ataxia UK has helped the family to cope with the diagnosis and to understand how they can best help Ronnie day-to-day.  The family have recently held a fundraising event in their community in support of the charity. 
 "Ataxia UK are always there for advice and support, sending letters on our behalf when we need an expert opinion."
Ronnie has undertaken regular physiotherapy sessions which until recently, gave the family hope that he may one day be able to walk with support. Unfortunately, having recently suffered an accident which damaged his ankles, Ronnie's physiotherapist is now unsure whether he will be able to walk, even with a frame, meaning he could be reliant on his wheelchair from now on.
"Ronnie's attitude is always positive, he just gets on with life. He's a normal child and doesn't let ataxia get him down.  We just hope and pray for a cure for all children with ataxia and are happy to support Ataxia UK when we can so that they can fund more research into treatments."