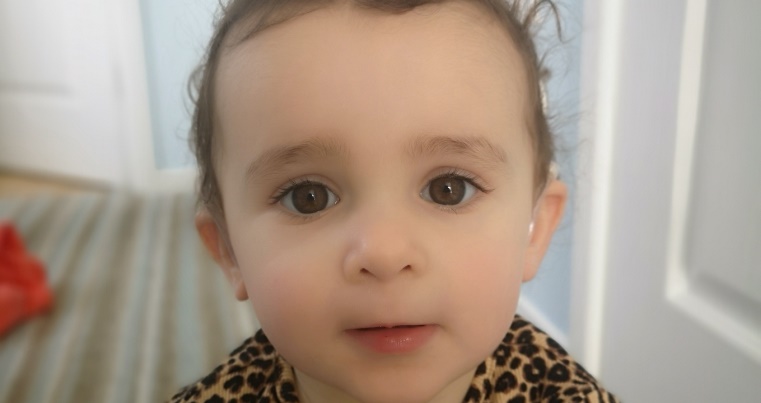 Lockdown may be easing across the UK, but there are still many face-to-face support services which are unable to take place.  Families with a child recently diagnosed as deaf need a lot of support, especially in those early days, and usually this might involve home visits to get practical support, or learn basic sign language to communicate with their baby.
Ros and Josh are mum and dad to Lola, now 20 months old.  When she was born, she failed several newborn hearing screening tests and at nearly five weeks old and after a thorough hearing test, an audiologist told the family that Lola was deaf.
"I was devastated. We knew nothing about deafness. I was thinking, how am I going to communicate with my daughter? How will I know what she wants? How will we do basic things like cross a road? Just simple things that you take for granted," Ros explains. "I cried for a week. Then I pulled myself together. I learnt how to put Lola's hearing aids in, though they made no difference. She didn't even stir when I hoovered next to her."
The local authority were able to send a Teacher of the Deaf, who provides support with everything from monitoring hearing aids to helping a deaf child develop listening and communication skills. She suggested the family learn British Sign Language (BSL), but Ros soon realised this would not be immediately achievable. "I was shocked to discover we'd have to pay for it ourselves – and it was £6,000. We felt very let down and afraid we might not be able to communicate with our daughter."
The family used the resources on the National Deaf Children's Society website and, when Lola was five months old, the charity offered them 10 Family Sign Language sessions, and Ros was delighted: "An incredibly patient lady called Sarah came and taught us signs structured around Lola's age and routines, like bed, bath time, food and feelings. That's been so vital for us – being able to communicate with my little girl through sign, even though she can't hear my voice."
At the moment, much of the support that Lola's parents relied on when she was first born, isn't there for families. Many audiology services, which provide hearing aids and support to use them have had to close, and Teachers of the Deaf can't visit homes.  Although the National Deaf Children's Society have had to shut their office like everyone else, there's still someone at the end of the phone for parents to talk to and Family Sign Language classes are running online.
By supporting Childlife, you are helping the National Deaf Children's Society and the other three Childlife member charities, to continue supporting children and young people across the UK, despite the current challenges we are all facing – thank you.