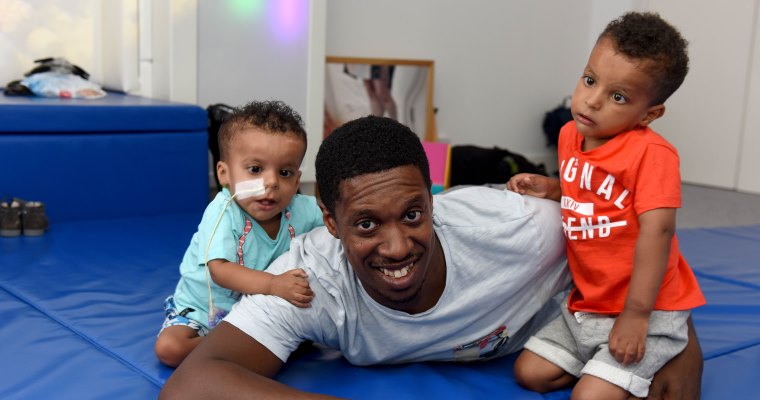 Category: Acorns
Posted on 20.11.2019
When Dad Earldon takes sons Theo and LeBron to Acorns in Walsall, he says they feel at ease straight away.  "They feel welcome and they feel safe and those are the main things you want for your children."
His sons both have a chromosome disorder which means their lives are limited.  It was a diagnosis which Earldon had heard before as the boys' cousin has the same condition.  Doctors cannot predict how the imbalance will affect them as they get older, but they are behind in their development, with three-year-old Theo not yet speaking or walking, though he is trying very hard.
"Both Theo and LeBron have this spirit where they like to try and just go for it.  As they are growing up, we're discovering what they can and can't do and we're all learning as we go – we look on it as an adventure," said Earldon.
The family have been using Acorns for over two years and Earldon values the help and support received at Acorns: "The staff have been great from the start – they really care about the children and are passionate about doing anything for that child to make sure they have a beautiful and happy stay," he said.
The boys and their Dad visit Acorns regularly – sometimes he will stay with them and other times they will stay overnight to allow Earldon a little respite time.  "When you come here, you know your child will be getting the one-to-one attention that they deserve.  LeBron and Theo are my life.  Their condition was a situation we were thrown into but luckily I've been given help and support from Acorns.  The staff now feel like family."
Acorns has three children's hospices in the West Midlands but the future of the Black Country site is currently under threat, due to a lack of funding.  They have a target to raise £2million to prevent closure altogether which would leave many local families without the support they need.  To find out more go to www.acorns.org.uk/appeal.