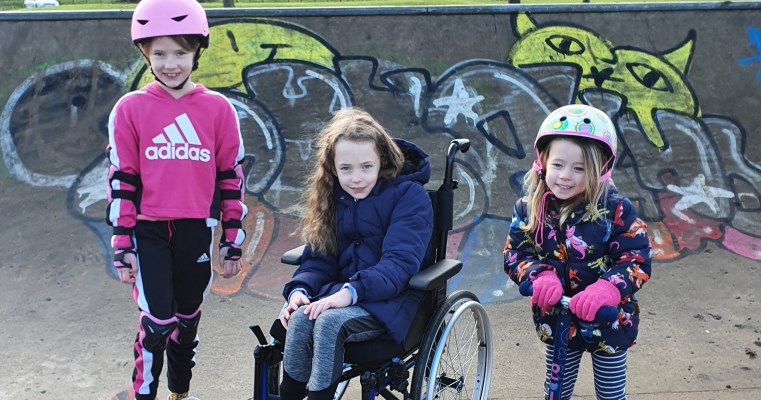 Soon after Christmas 2019, Amy made a GP appointment for Darcy, then seven – she was concerned that something significant had changed with the way she walked.  At around the same time, teachers at school, dancing and swimming lessons had mentioned issues with her balance and mobility. 
The diagnosis of Friedreich's Ataxia (FA) eventually came in the summer, following a battery of tests and over 30 appointments, including MRIs, vision and hearing tests, genetic testing and ECG's – and all during a pandemic.  It was also confirmed she has heart condition called Hypertrophic Cardiomyopathy, which makes her prone to dizziness and chest pains.
The progression of Darcy's FA has been rapid, with her now using a walker, wheelchair and all-terrain buggy, depending on how her mobility is that day.  Amy explains:
"The Darcy we knew 2 years ago no longer exists.  Everything muscular is affected and she has chosen to stop her gymnastics and dance classes as she feels incredibly self-conscious, but she is attending additional needs swimming lessons, with me supporting her in the pool. She is now unable to dress independently as her fine and gross motor skills are incredibly poor. There is no aspect of her daily life that this condition does not affect."
The impact of FA has affected everyone in the family, in particular Darcy's sister, Molly who is only 15 months younger.
"They used to do everything together and had the same interests. As Molly is becoming more independent, Darcy is regressing and needs more support and Molly is having to adjust to not always having Darcy by her side."
Amy heard about Ataxia UK from their Paediatric Consultant and decided to take on a challenge for her 40th birthday and ran, walked and cycled 86 miles in 40 days, raising £4,000, along with support from many friends and family.  Her aim was also to raise awareness of ataxia – something most people will never have heard of.
"Ataxia UK are working towards finding treatments and cures for a condition which has already changed our beloved Darcy.  Our hope is that in her lifetime, treatment will help to slow her progressive degeneration and that other families don't have to experience the same trauma we are going through."
By supporting Childlife, you are helping Ataxia UK to continue to fund research into the ataxias and to support families living with the condition.