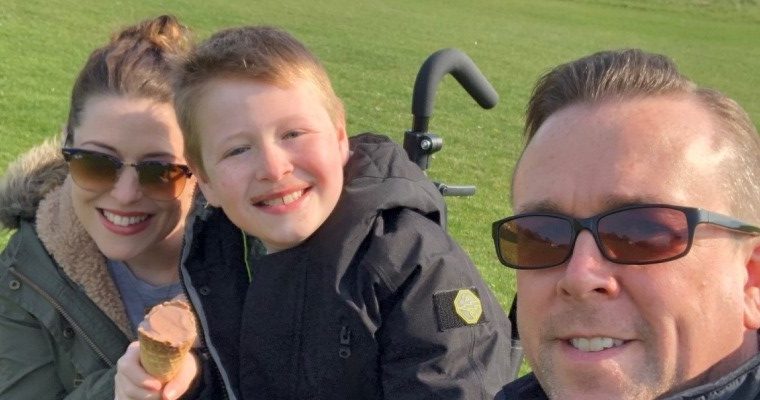 The Riley family from Hull are just like millions of families across the UK – there's, Dad James, Mum Lucy ten-year-old Thomas and a new baby to keep them all on their toes.
However, the family do face some extra challenges, as two years ago Thomas was diagnosed with Friedreich's Ataxia (FA), with the long journey to diagnosis being an all too familiar story for parents like James and Lucy.  "A lack of knowledge in the NHS around FA meant diagnosis was a long process and it wasn't until a specialist finally saw Thomas and linked all his symptoms together, that we discovered he had FA," said James.
The most frightening thing for the family has been the speed at which Thomas' FA has progressed, with an initial prognosis that he might need a wheelchair by 16, now becoming a reality on bad days.  He can struggle with physical stamina, fall over, has painful muscle spasms and can be very lethargic at times.  He also has a heart condition called cardiomyopathy, where muscles around the heart are enlarged, making it have to work harder and further restricting his activity as a result.
Thomas though, maintains a positive attitude towards the way that ataxia is affecting him, getting involved in activities where he can, as well as enjoying family film nights and playing computer games with his Dad.  Recently he's been enthusiastically supporting James, who has raised over £2,500 for Ataxia UK through various runs, including half marathons and 10K events.
James reached out to Ataxia UK as soon as Thomas had been diagnosed: "Being such an unheard of disease I wanted to gather as much information as possible and read as much as I could to help me understand FA.  I also wanted to be able to raise awareness of ataxia as a whole and to support Ataxia UK's work," he said.
Ataxia UK continues to strive for effective treatments and ultimately a cure for ataxia for people like Thomas, investing over £6.75million in research since the year 2000.
The support you give Childlife helps to support ongoing critical research to help children with ataxia now and in the future.  To read more about the family and their journey with FA, you can read Lucy's honest and heartfelt blog at www.lifeofrileys.org.