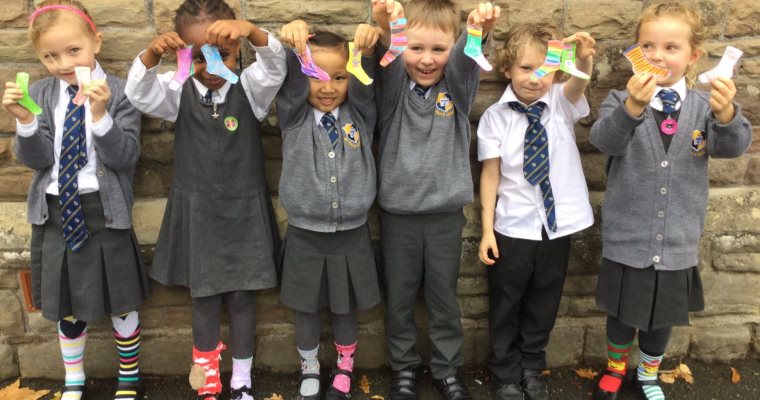 If you have children or grandchildren or work with young people, you will almost certainly have heard of Anti-Bullying Week (ABW).  The annual event is spearheaded by the Anti Bullying Alliance, part of Childlife member charity, the National Children's Bureau.
Held in the third week of November, Anti-Bullying Week aims to raise awareness of bullying of children and young people, in schools and elsewhere, and to highlight ways of preventing and responding to it. Started in 2002, an estimated 80% of schools in the UK are now taking part, reaching over 7.5 m children and young people.
Each year, the organisers work with hundreds of young people to develop the theme, with subjects such as 'United against bullying' and 'All different, all equal', in recent years.  This month sees the launch of the 2021 campaign, with the theme One Kind Word, which will run from 15-19 November.
Odd Socks Day will again feature on the first day of Anti-Bullying Week – supported by Andy Day of CBeebies and CBBC fame, along with his band Andy and the Odd Socks – a fun way to get younger children to celebrate differences.
Sadly, bullying is still a significant problem in children's lives, with a third (33.5%) of children in England saying they've been victims during the last six months. A poll of 2,000 11 to 16-year-olds, found that one in five children said they were on the receiving end of bullying behavior once per week or more.
The poll, commissioned by the Anti-Bullying Alliance, suggests that Covid-19 has affected how bullying takes place, with rising numbers of children reporting incidents online or in their communities compared to a similar survey last year, and fewer children saying they had been bullied in school.  Of those who reported being bullied recently, 38% said it had taken place online, a rise from 29% in a pre-Covid survey conducted in 2019.
At the same time, the lengthy closure of schools for most children seems likely to account for a drop in bullying in school settings, with 74% of young people who reported being bullied in 2020 saying it took place in school, a fall from 83% in 2019.
Martha Evans, Director of the Anti-Bullying Alliance said: "It's clear that bullying remains a significant problem for many children across the country, and we know that these experiences can have a lasting impact well into adulthood. But this year we have witnessed the power that people can have when they unite to tackle a common challenge."
To find out more about the Anti-Bullying Alliance and this year's Anti-Bullying Week, go to www.anti-bullyingalliance.org.uk or follow them on Twitter at @ABAonline