With ataxia in the family, lightning often strikes twice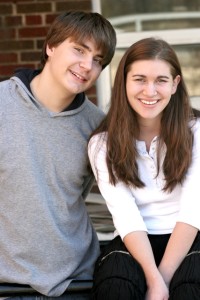 In 2008, Mari-Vic started to notice a steady deterioration in her children's balance and handwriting. It was unsettling, as both had always excelled in sport – daughter Elise at dance and son AJ on the rugby field.
After a number of consultations, 8-year-old Elise and 11-year-old AJ were both diagnosed with Friedreich's ataxia – a rare inherited disease that damages the nervous system. Suddenly these 'early developers' had an awful lot more to contend with than their classmates, but with support from their amazing Mum – and Childlife charity Ataxia UK – they've coped.
Six years on, Elise and AJ have both learnt to live with ataxia,but the condition has affected their lives immeasurably.
For example Elise, a keen horse rider, had dreamed of one
day competing in the Paralympics but her condition has recently deteriorated. She may rely more heavily on using a wheelchair in the future and her goal is becoming ever-more distant. That's a lot for any teenager to have to deal with.
Through all of this, Mari-Vic has encouraged her children to stay fit and active to delay the progression of their ataxia: 'Over time, we have learnt what is beneficial', she explains; 'and we have exercise schedules which are incredibly useful'. It's this positive attitude that Ataxia UK is keen to foster.
So as well as funding research into potential treatments and a cure for ataxia, the charity also offers a wide range of support services – such as a telephone helpline and local groups – that enable families to share information and draw strength from each other.

Photo posed by models.