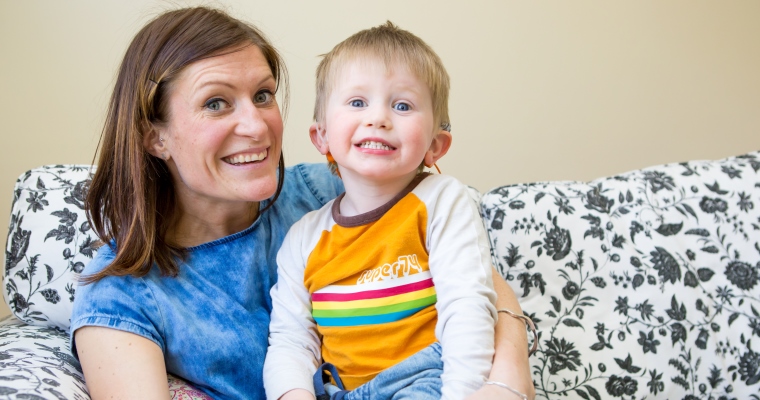 This year marks the 10th anniversary of universal newborn hearing screening being introduced across the UK, following campaigning from the National Deaf Children's Society. Prior to this, the infant screening programme, commonly referred to as the 'distraction' test, took place at eight months, meaning that many babies went undiagnosed and families unsupported.
Every baby's hearing is now tested within the first few weeks of life, meaning that if a child is deaf their family will receive the life-changing diagnosis as soon as possible and get help to support their baby's needs. The simple test, which involves a small ear-piece being placed into the ear, is usually done while the baby sleeps – it's quick and painless and the results are known straight away. If any problems are spotted the baby is then quickly referred for more tests.
When Monty's parents, Amanda and Michael, found out he was profoundly deaf it was totally unexpected. There was no family history of deafness – 90% of deaf children are born to hearing parents who don't have experience of deafness, or know how to communicate with a deaf person.
Monty's hearing loss was picked up through newborn hearing screening at just a day old. He was given a second screening test the next day and then referred for further hearing tests.
"After those first couple of tests, they said not to worry, it may be that he was still a bit bunged up with fluid from being in the womb, especially as he'd been an emergency C-section," says Amanda. After two weeks they saw a specialist who performed more tests to find out Monty's hearing level. "I knew we were going to be told there was something wrong – we'd seen for ourselves how Monty didn't respond to sound, but it was still a huge bombshell."
Thanks to early diagnosis, the National Deaf Children's Society was able to support the family right from the start, providing them with information and welcoming them to a special weekend event for families with newly diagnosed deaf babies, when Monty was about six months old.
"The National Deaf Children's Society is amazing, there is so much information on their website and we found out lots on the weekend, it was brilliant. The real benefit was meeting other parents, talking to people who understood without having to explain everything, even just sharing tips like how they keep hearing aids on their young child," said Amanda.
By supporting Childlife you are helping National Deaf Children's Society to be there for parents like Monty's and for the parents of the four deaf children born every day in the UK, helping to ensure they have the very best start in life.
As part of the campaign, the National Deaf Children's Society is calling on the Government and local authorities to protect funding for vital early years services and ensure high-quality support is in place as soon as a child is diagnosed is deaf.

Video credit: NHS choices