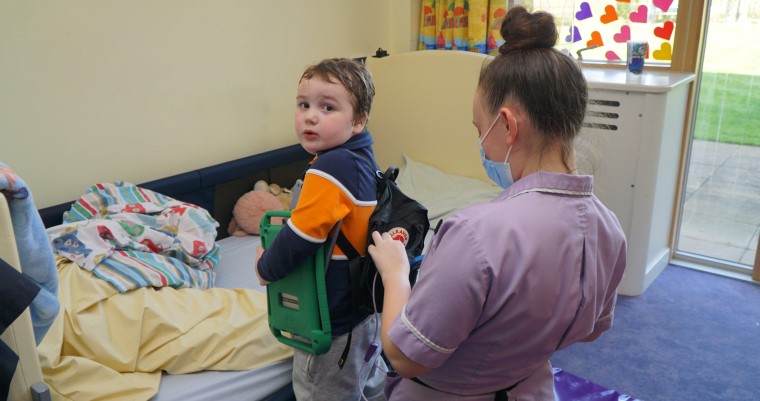 Category: Acorns
Posted on 18.11.2021
Acorns Children's Hospice isn't only about end of life care.  It's about enabling children and families to live life to the full, with the emotional, clinical and medical care they need – often over many years.  This can include tailored nursing care during short breaks in the hospice and the wellbeing of the whole family, including siblings.
Ezra has a life threatening condition which means his body produces extremely high amounts of insulin, the hormone which controls blood sugar levels. Without warning his blood sugar level can drop to a critical level and he will fall unconscious, unable to be woken up.  Ezra always has his backpack with him containing his medication and his special tube feeds, which he has every two hours.  It also holds his glucose monitor which beeps if his sugar levels drop too low, so that he can quickly be given medication.
For Mum, Emily, this means she doesn't get a full night's sleep, listening out for the monitor and checking on Ezra, which is one of the reasons his visits to Acorns for short breaks mean so much.
"When Ezra comes to Acorns Children's Hospice for a short break, he has so much fun.  He really looks forward to his Acorns visits. It gives me a break too because I know he is in the safest of hands.  It also gives me quality time with Stanley, Ezra's older brother.
"It's really important that Stanley gets some focus and Acorns have been amazing and so supportive of his needs as well. He has met other siblings who are in a similar situation, so he knows he isn't alone. He also has a Sibling Support Worker who is there to talk to when he needs it.
"We have an overnight stay coming up which is our first since the pandemic began.  Acorns is our little safety net. I feel so lucky to have them."
By supporting Childlife, you are helping families like Ezra's at their point of greatest need, helping them to cope today and in the future.